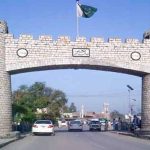 ISLAMABAD: Pakistan Tehreek-e-Insaf (PTI) chief Imran Khan Wednesday submitted a petition in the Election Commission of Pakistan (ECP) against Prime Minister's statement regarding horse-trading in Senate elections.
In his petition, the PTI chief demanded that the prime minister corroborate his claims before the commission.
He also said that the prime minister's remarks about the "buying and selling" of votes was dangerous, which could be not expected from the chief executive of the country.
He further added that the ECP should take immediate action against the PM's remarks.