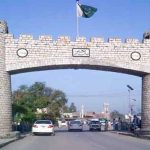 ISLAMABAD: Pakistan Tehreek-e-Insaf (PTI) disgruntled MNA Ayesha Gulalai on Monday attended and addressed a session of the National Assembly and said that Imran Khan is not a deity that he could not be criticized adding that for her character is important.
Gulalai addressed the House after the Deputy Speaker gave her the permission. Ruckus was witnessed in the NA session during Gulalai speech as PTI MNA chanted slogans and disrupted her speech.
Ayesha Gulalai said that she came on merit and would continue her duties. "I congratulate the newly elected PM," she said.
Gulalai said that she gave voice to the weak women, adding that she never compromised over integrity. "Imran is not a deity that he cannot be criticised, character is important," she said.
She said that allegations were hurled at her family and she was given death and acid attack threats.
Ayesha Gulalai said that she wants to tell PTI members that they can face the same treatment. She also said that the trend of using abusive language should change.
The former PTI MNA said that her sister Maria Toorpakai is apolitical, but the PTI supporters did not even spare her.
The Deputy Speaker during her speech requested the ministers to maintain discipline, while asking PTI leader Shireen Mazari to remain seated.