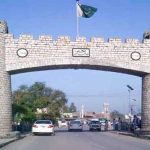 ISLAMABAD: Chairman Pakistan Tehrik-e-Insaf (PTI) Imran Khan has reached the venue of the party Thanksgiving Day rally at Parade Ground in Islamabad to celebrate Nawaz Sharif's disqualification as prime minister by the Supreme Court.
PTI supporters have started amassing at Parade Ground to take part in the celebratory gathering of the party.
PTI Chairman Imran Khan had announced to hold a 'Youm-e-Tashakur jalsa' [Thanksgiving Rally] following Nawaz Sharif's disqualification as prime minister by the Supreme Court on Friday.
The rally is planned to start at around 6pm and last till 11pm, according to the local administration. The PTI chief is expected to outline a future course of action following the Supreme Court's verdict.
Caravans of PTI supporters began reaching the Parade Ground from across the region earlier in the day.
PTI leaders from Lahore, Peshawar and other cities are also leading their separate groups to attend the rally.
To ensure security at the site of the gathering, 1,600 security personnel are deployed as per the security plan.
Moreover, there are three ways set up for participants to enter Parade Ground.
Walkthrough gates have been installed at the entry points so that no one enters the venue without being checked for security.
A separate entry point has been made for women, where female security personnel will be present for frisking. A separate enclosure has also been erected for women participants of the event.
Islamabad Deputy Commissioner Capt (retd) Mushtaq Ahmed told Geo News earlier traffic and security arrangements have been completed for the rally.
Three stages have been set up, with one for the central leadership where Imran Khan will be addressing the crowd. Organisers also said that a film on the party chief will be displayed at the event, for which large screens have been put up.
The organisers claimed to have made seating arrangements for 30,000 people whereas the local administration claimed only 9,000 seats have been placed at the venue.
The PTI chief, in a tweet on Saturday, claimed 'record' crowds will come to today's gathering to celebrate Nawaz Sharif's ouster.