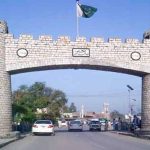 ISLAMABAD: Awami Muslim League (AML) Chief Sheikkh Rasheed held meeting wit Pakistan Tehreek-e-Insaf (PTI) Chairman Imran Khan in Islamabad on Tuesday.
According to media reports, both the leaders took stock of the Supreme Court's hearing on Panama Papers case.
Sheikh Rasheed and Imran Khan agreed to join hands with opposition and increase pressure on Prime Minister Nawaz Sharif to step down from his post, media reports suggested.