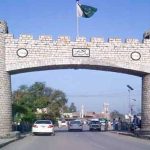 Pakistan Tehreek-e-Insaf (PTI) Chairperson and former premier Imran Khan called on President Dr Arif Alvi to for action against elements within state institutions responsible for violating the Constitution and abusing power.
In a letter to the president on Sunday, the PTI chief stated that since the removal of the PTI government, the country has been "confronted with an ever-increasing scale of false allegations, harassment, arrests, and custodial torture".
The letter, shared by multiple journalists on social media, states the various grievances and allegations made by Imran in previous public appearances and press talks including the assassination attempt, false allegations as well as harassment, arrests and custodial torture of PTI leaders.
It names Interior Minister Rana Sanaullah of repeated threats while also re-naming the security czar, the premier and a senior military officer as those responsible for the attempted assassination.
It calls for an inquiry on how the contents of Imran's converastion, while he was prime minister, with the army chief and spymaster was recorded and leaked to the media.
It then highlighted the October 27 press conference by the heads of the ISPR and ISI in which they contradicted Imran's claim of the cipher being a national security issue.
"The question that needs to be examined is how two military bureaucrats can publicly contradict a decision of the NSC? This also raises the serious issue of these military bureaucrats deliberately trying to create a false narrative," said the letter.
It also called for limiting the ISPR to information pertaining to defence and military issues.