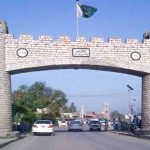 LAHORE: Federal Minister of Interior, Rana Sanaullah, has said that the operation in Zamzama Park is almost complete. Police did not enter the part where Imran Khan's wife was present, he said, adding that Imran Khan is a troublemaker, who wants to create chaos and unrest in the country.
Addressing a press conference here on Saturday, he said that when the police went to clear out the Zaman Park, they were unarmed. The police were pelted with stones, he said, adding that Zamzama Park was converted into a new go area. The police cleared the entire area while being unarmed, he said. The purpose of the operation was to apprehend miscreants, he added.
The federal minister said that those who refuse to sit with their opponents and hold talks have become visible. The nation should recognize them. Despite the high tension, the police conducted this operation without weapons, taking care not to lose any lives, he said.
Rana Sanaullah stated that Imran Khan and his leadership will be nominated in all cases. Those who were arrested will be included in the charge sheet.
He said that Imran Khan was accompanied by armed men outside judicial complex. He said that Islamabad police was only implementing the court's order by letting only those people who were on the list provided by the court. He said that the government had promised security to Imran Khan during his appearance in the court, but he brought armed men along with him.