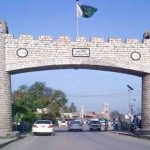 QUETTA: Pakistan Tehreek-e-Insaf (PTI) chairman Imran Khan Friday warned the federal government of protest movement against harassment of PTI's social media workers.
Speaking at a rally in Quetta, Khan said the government was harassing social media activists on the pretext of anti-army propaganda through FIA and warned that the PTI would stage protest demonstration if the government tried to usurp the right of freedom of expression from youth. He said that the PTI workers were being harassed and arrested.
He said that it was East India Company in the past, but now there's Sharif family's company ruling the country. "Sindh is being ruled by Zardari family's company, while Maulana Fazlur Rahman and his brothers also have their own company," he said. He said that Achakzai also has brothers and relatives company, while Asfandyar Wali Khan has ANP company in Khyber Pakhtunkhwa, who have looted the national wealth through corruption. He claimed that these leaders have sent looted money abroad and purchased properties there.
The PTI chief said these companies are getting richer and the people poorer and poorer.
He said that the JIT should investigate the Sharif family's business partnership with foreigners including Indians. He asked Nawaz Sharif to tell the nation about his foreign assets and business interests. He also questioned the government's strategy on appearing before ICJ in Kulbhushan case. He said that the ICJ decision case after Jindal meeting with Nawaz Sharif. He said that the nation could not trust Nawaz Sharif, who have business interests abroad.
The PTI chief said that the police officials Balochistan were telling him since yesterday that they wanted Khyber Pakhtunkhwa like police system in the province.
Earlier, PTI Balochistan chapter's president, Sardar Yar Muhammad Rind accompanied Imran Khan to Ayub Stadium, where the rally is being held.
PTI leaders Shah Mehmood Qureshi, Jehangir Tareen and Awami Muslim League (AML) chief Sheikh Rasheed are also present alongside the PTI chief.
Stern security measures have been in place to thwart any untoward incident, while separate seating arrangements were made for women participants at the rally.
Addressing the participants, Jehangir Tareen said the rulers to the date have only filled their pockets. He promised that his party will put looters in jail.
Admitting that the rulers neglected Balochistan, he vowed to end deprivation of the province after his party came into power.
"The rulers of Balochistan also played politics in the name of province," Tareen said.