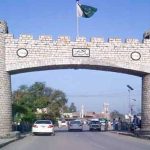 UPPER DIR: Provincial President of Awami National Party (ANP) and former chief minister Khyber Pakhtunkhwa Amir Haider Khan Hoti has asked as to how Pakistan Tehreek-e-Insaf (PTI) Chairman Imran Khan could run affairs of the country if he cannot put his own house in order.
Addressing a public rally in Upper Dir on Sunday, Hoti said that a person who cannot put his own house in order could not run affairs of the country.
He said that the people of Malakand in general and Dir in particular have rendered great sacrifices in war against terrorism.
Hoti further said that leaders of ANP have played a vital role in war on terror and in times of natural disasters like earthquake and floods in the province.
He accused the federal government of giving priority to Punjab only in China Pakistan Economic Corridor (CPEC).
The former chief minister said that they would bag votes in the coming elections for establishing universities in Khyber Pakhtunkhwa and launching projects like 1122.
He claimed that his party would steer the country out of loans if voted to power in the coming elections.
Other leaders of ANP also addressed the rally.