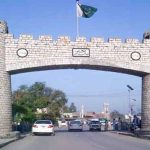 ISLAMABAD: Former prime minister Nawaz Sharif has said that he was not in favor of confrontation and wanted the country to function in accordance with the law and constitution.
Talking to media outside accountability court in Islamabad on Thursday, he said that the biggest problem of the country was delay in justice adding that the incumbent judicial system needed to be changed.
Nawaz Sharif announced that he wanted to change the judicial system in accordance with the needs of the country.
Regarding the recently held elections in Senate, Nawaz Sharif said that the entire nation witnessed "what happened" in the elections.
He also asked as to who provided Pakistan Tehreek-e-Insaf (PTI) Chairman Imran Khan and Pakistan People's Party (PPP) Co-Chairman Asif Ali Zardari with address of Sanjarani house.
Nawaz Sharif claimed, "Both the leaders were "asked" to go to Sanjrani house as there resided a "Sadiq" and vote him".
He was referring to the support of Imran Khan and Asif Ali Zardari for Sadiq Sanjrani in the Senate elections.