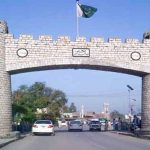 ISLAMABAD: The chief of the Jamiat Ulema-e-Islam (F) and President of the Pakistan Democratic Movement (PDM), Maulana Fazlur Rehman has advised PTI chairman Imran Khan to respect and surrendered to police, saying that Imran Khan had adopted a rebellious approach towards the state's writ.
During a press conference here on Wednesday, the PDM president said that the Imran Khan's attitude may weaken the state's writ. Imran Khan has adopted a culture of weakening the country, he said.
Maulana Fazlur Rehman said that he has repeatedly stated that Imran Khan was acting on an anti-state agenda. "We should see which powers are supporting him in creating chaos," he said. He said that everyone was equal in the eyes of the law, and no one was exempted from it. Instead of making workers as human shield, Imran Khan should face the cases against him. He said that Imran Khan should be arrested and presented in court under any circumstances. He said that necessary resources should be used for maintaining the state's writ.