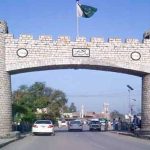 ISLAMABAD: Pakistan Democratic Movement's (PDM), protested on Tuesday outside the Election Commission of Pakistan (ECP) in Islamabad against delayed proceedings in the foreign funding case against PTI.
Addressing the protest rally, PML-N Vice-President Maryam Nawaz alleged that Prime Minister Imran Khan had received funding from Israel and India. Maryam said that the person who was blaming others for theft "turned out to be a thief himself".
Maryam further alleged that "if a person is taking funds from the Bharatiya Janata Party's (BJP) workers, then he will ultimately pray for Modi's success".
The ECP failure has become a "punishment" for the people, she said, asking why when the Results Transmission System (RTS) was disrupted, did the ECP not take notice.
PDM chief Maulana Fazlur Rehman, PML-N's Ahsan Iqbal, PPP's Raja Pervez Ashraf, PKMAP's Mehmood Khan Achakzai, Akhtar Mengal addressed the crowd in turn.
Ahsan Iqbal said PM Imran Khan was "illegally imposed" on the country. He slammed the government over what he termed the economic crisis Pakistan is in and the government's policies. "It is time the selected government is sent packing."
A meeting of the senior leadership of the Opposition alliance was held ahead of the protest, at Fazlur Rehman's residence in Islamabad. It was attended by PML-N vice-president Maryam Nawaz, PKMap chief Mehmood Khan Achakzai, PPP's Sherry Rehman and Raja Pervez Ashraf, Akhtar Mengal, Khurram Dastagir, Amir Haider Khan Hoti and others.