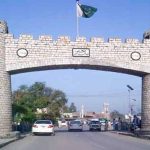 KARACHI: Naqeebullah Mahsood's extrajudicial killing has been given the status of "high-profile case" and two witnesses in the case have been provided security under Witness Protection Act.
According to sources, five police personnel have been deployed for the protection of the witnesses.
The sources; however, said that there were no funds for the implementation of the Act.
Safe and secret residence has yet not been provided to the witnesses nor their identities have been changed, the sources said and added that several other steps for the implementation of the act have so far not been taken.
They further said that the orders of the Supreme Court in connection with the protection of the witnesses were not being complied with.
Let it be known that the case of extrajudicial killing of Naqeebullah Mahsood – a 27-year old youth from South Waziristan Agency (SWA) – is pending in the Supreme Court and the apex court has given 10 days to Inspector General Sindh to arrest Rao Anwar.
Rao Anwar – the former Senior Superintendent Police (SSP) Malir – is wanted for murdering Naqeebullah Mahsood during a fake encounter in Karachi.