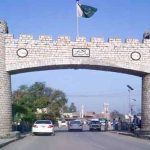 ISLAMABAD: PTI Central Leader and Finance Minister-in-waiting, Asad Umar has said their incoming government would introduce fundamental reforms for putting the economy on right track.
In his first formal interaction with economic reporters in Islamabad, Asad Umar said the decision to go for any bailout package would be taken after analyzing the official economic data, which is not accessible to them as yet.
He said many options are available to the government to plug the economy's widening current account gap. These include commercial borrowing, taking bilateral loans from countries or going to IMF. However, the decision would be made after analyzing the data.
Asad Umer said the government would evaluate all options in parallel and eventually take decision. He said that the country is facing 2 billion dollar current account deficit monthly for the last three months which earlier was the deficit of whole year. He said economy could be strengthened by attracting investments from overseas Pakistanis.
The PTI leader said the government would have an opportunity to launch bond or Sukuk by making an investment instrument for overseas Pakistanis to reduce risk.
He said the PTI government will reduce reliance on indirect taxes which have been putting burden on common people and would increase taxation besides making businesses and agriculture sectors competitive.
He said new government would introduce reforms in FBR by separating the tax and administration set-ups.