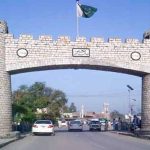 ISLAMABAD: Foreign Minister Shah Mehmood Qureshi on Thursday termed Pakistan-China friendship as "timeless" and said the Pulwama incident last month proved "China has been and will always be an everlasting friend of Pakistan."
Addressing a joint press conference with other ministers and advisers in Islamabad, Qureshi said India tried but failed to link Pakistan with the Pulwama attack.
"The crisis resulting [in the aftermath of] the Pulwama attack proved that China is a timeless friend of Pakistan and has always stood by us. India tried but failed to link Pakistan with the Pulwama incident," the foreign minister said.
Qureshi said he briefed his Chinese counterpart Wang Yi on the situation arising as a result of the Pulwama incident and the Afghan peace process during his recent visit to Beijing where he attended the first ever Pakistan-China Foreign Ministers' Strategic Dialogue.
He further informed that Prime Minister Imran Khan has been invited by the Chinese leadership to attend the second Belt and Road Forum for International Cooperation, to be held in Beijing on April 25 to 27.
Delegates from more than 100 countries are expected to attend next month's forum.