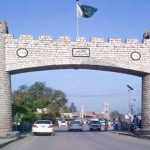 ISLAMABAD: Foreign Minister Makhdoom Shah Mehmood Qureshi says the Financial Action Task Force has recognized the steps taken by Pakistan to control money laundering and terror financing.
Talking to newsmen in Multan, he said Pakistan has been given various tasks by the FATF till February next year and the government would achieve all these targets to get the country out of grey list.
The Foreign Minister said India has failed to push Pakistan into FATF black list.
He said the world neglected India's viewpoint and international civil society pointed out curfew and human rights violations in Occupied Jammu and Kashmir.
Shah Mahmood Qureshi urged Opposition parties to avoid any steps which could strengthen the Indian point of view.
He said India had occupied Kashmir on Oct 27 and Pakistan would observe the day as Black Day.
To a question, Qureshi said the country's economy is strengthening day by day and export have increased by 5.9 per cent while a decrease of 11 to 13 per cent has been witnessed in import.
He said the next phase is to speed up development and progress in the country.