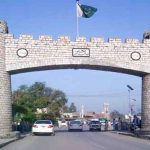 ISLAMABAD: Foreign Minister Khawaja Asif says India and Israel have anti-Islam nexus, which is evident from their occupation of Muslim territories.
In an interview with a private channel, he said India has occupied the territory of Kashmir, while Israel is occupying a vast area of Palestine.
The foreign minister said Pakistan never accepted Israel, and India has been involved in the killing of a large number of Muslims in Gujrat.
Commenting on Pakistan's sacrifices on war against terror, he said Pakistan's valiant armed forces have been fighting war on terrorism with full force and they have achieved many successes in it.
Meanwhile, speaking a meeting of the Senate standing committee on Foreign Affairs, Foreign Minister Khawaja Asif emphatically stated that Pakistan will never make compromise on its national interests.
He said Pakistan desires balance in its relations with the United States. He said Pakistan made it clear on the civil and military leadership of the US that Pakistan does not require any aid. But the US should not blame Pakistan for its own failures.
Regarding a Fatwa issued against terrorism the Minister made it clear that the state is not bringing jihadi outfits into the national mainstream.
The foreign minister said China has expressed its desire to extend the CPEC to Afghanistan. He said Pakistan also supports the Chinese plan.