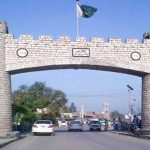 ISLAMABAD: Pakistan's Foreign Minister Shah Mehmood Qureshi said on Sunday that the federal government had reliable intelligence that India was planning to carry out aggression against Pakistan between April 16 and 20.
FM Qureshi addressed a press conference in Multan, Qureshi said the ambassadors of the permanent members of the UN Security Council [China, France, Russia, United Kingdom, and United States] in Islamabad had been informed about "the plan" two days ago.
"We have reliable intelligence that India has made a new scheme and the planning is underway and there are chances of another aggression against Pakistan and according to our information this action can take place between April 16 and 20," he said.
"If it happens, you can imagine the impact of the occurrence on the peace and stability of the region." he said.
"I am saying it with responsibility and I have a responsible position, I know each word I say would make headlines in the international press," he said, stressing the reliability of his claim.
He said the planned aggression was aimed at "increasing diplomatic pressure against Pakistan".
"After consultation with Prime Minister (PM) Imran Khan, we have decided to share this information with the people of Pakistan as well as the international community immediately. It is our policy to keep the nation informed," the minister added.
"Fear of war has not yet dissipated," Qureshi said while urging the United Nations and the international community to play their role in ensuring peace and stability in the region.
"Modi has given a free-hand to the Indian army," he went on to say.
"The international community must take notice of India's irresponsible behaviour. The world must not stay silent, or peace and stability in South Asia could suffer."
He said that international powers did not reprimand India despite blatant violation of international laws on the part of India due to geopolitics.
"Following the Pulwama incident, a significant increase in gross human rights' violations by India have been observed," he said.
He further revealed that another Pulwama like incident could be staged in occupied-Kashmir. "Pakistan has been trying to resolve the matters with India," he said, while inviting India for a dialogue in the larger interest of both South Asian countries and the region.
He emphasized on the measures taken by Pakistan to defuse the simmering tensions with India in the aftermath of the Pulwama attack on February 14, in which more than 40 Indian paramilitary soldiers were killed, and the blame of which was put on Pakistan without any evidence.
"Pakistan's decision to release captured Indian Air Force pilot was a gesture of peace," he said, adding that the country has also announced to release 360 Indian prisoners this month.
He further said the US defence officials had confirmed that no Pakistani F-16 fighter jet was missing after a count, referring to a recent report by Foreign Policy magazine that rebutted Indian claim that an F-16 jet was downed in a dogfight with Pakistan.
"Pakistan is ready to provide information to India," he said.
"But if India attempts another aggression against Pakistan, then Pakistan reserves the right to defend," he concluded.
Relations between the nuclear-armed neighbours nose-dived after Pulwama attack in Indian-administered Kashmir (IOK) in February, in which at least 40 Indian security personnel were killed.
On February 26, Indian warplanes violated Pakistani airspace in a state of aggression while Pakistan Air Force responded effectively and shot down two Indian fighter jets from across the Line of Control (LOC).
The wreckage of one of the crashed aircraft fell in Azad Jammu and Kashmir and an Indian pilot Wing Commander Abhinandan, who was captured and later released on March 1 as a gesture of peace by the Pakistani government.
Pakistan has repeatedly denied any role in the Pulwama attack while Prime Minister Imran Khan has offered cooperation in the investigation if credible evidence was provided by India.