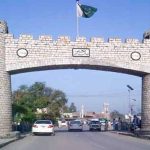 NEW DELHI: Pakistan's High Commissioner in India Abdul Basit on Sunday warned India to stop interference in Balochistan.
Abdul Basit has said that Kashmir is the primary bone of contention between Pakistan and India which needs to be resolved. Rejecting Indian allegation regarding involvment of Pakistan in Uri attack that claimed lives of 18 soldiers, he said that Pakistan never allowed anyone to use its soil for any violence.
The High Commissioner said that war against terrorism can't be won without cooperation between the two states.
He said that the peace in the region cannot be attained until the solution of Kashmir issue and the involvement of Hurriyat leaders.
He said that various elements in India are trying to deteriorate harmony in Pakistan.
Abdul Basit urged the international community to take step for the self-determination of Kashmiris so that they can live life peacefully.
He also lashed out at Indian media and termed Indian allegations baseless as Pakistan has no link with Uri attack.
High Commissioner also said that more than 70,000 Pakistani citizens and 6,000 security personnel have sacrificed their lives in fight against terrorism.