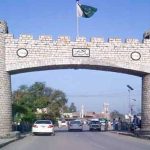 ISLAMABAD: Interior Minister Ahsan Iqbal Thursday said Eastern neighbor of Pakistan was constantly utilizing Afghan soil to destabilize Pakistan, thus hampering its endeavors to fight against terrorism.
"The establishment of peace and security in Pakistan is directly linked with peace and stability in Afghanistan, therefore the international community should realize that whose stake is involved in destabilizing Afghanistan," the minister said while addressing an inauguration ceremony of Diplomatic Enclave Riding Club here.
The inauguration ceremony was attended by Inspector General of Police (IGP), Dr Sultan Azam Taimuri, diplomats from various countries including South Korea, Saudi Arabia, Palestine, Azerbaijan and others, and members of business community.
Ahsan Iqbal said due to disturbance at Western border being created by neighboring country, over 200,000 security personal were deployed at the border which needs extra resources.
He also urged upon the international community to support Pakistan in repatriation of over three million Afghan refugees as they were causing problem for the country.
The minister said Pakistan had rendered unprecedented sacrifices in war against terrorism saying that if the international community could not support Pakistan in its fight against terrorism then at least, it should not create hurdles in its way to handle this international challenge accordingly.
He said some efforts were being made to put Pakistan in watch list of those countries funding terrorism and such efforts could be counter-productive for war against terror.
"If Pakistan's economy is disturbed by imposing economic sanctions, then it would ultimately dilute its capability to fight against terrorism," he added.
Pakistan, he said, is fighting its war against terrorism to secure its future generation and it had declared it a national challenge to get rid of this menace once for all.
Appreciating the Islamabad Police' performance, the minister said the best performance of it has made Islamabad one of the safest federal capitals in the world.
He said, "We are trying to make Islamabad Police a model community police by equipping it with state-of-the-art technology."
Earlier, speaking at the occasion, the IGP Islamabad said on special direction of the interior minister, the riding club was established by the Islamabad Mounted Police to provide the diplomats and others specially young people an opportunity to learn and enjoy horse riding.
He said a state of the art Gymnasium in Diplomatic Enclave had also been established to provide healthy activity to the diplomats and other people.
He informed that a shooting club would also be established soon in the diplomatic enclave.