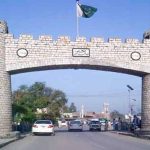 ISLAMABAD: The Foreign Office (FO) spokesperson Dr. Muhammad Faisal on Thursday while reacting to the Indian army chief's recent comments on Pakistan has said that the Indian chief should be careful with his comments.
In his weekly press briefing, Dr. Faisal said that Pakistan responded to US President Donald Trump's tweet to 'set the record straight'.
He said that Pakistan provided intelligence assistance to the United States to crack down against al Qaeda terrorists.
"We are aware of the United States' contacts with the Taliban and we welcome the effort made," the spokesperson added.
On the atrocities committed by the Indian forces in Indian-occupied Kashmir, the spokesperson shared that the prime minister is aware of the situation in the valley.
"Pakistan condemns the atrocities by the Indian forces in Kashmir. We hail the efforts of the Organisation of Islamic Cooperation (OIC) which conveyed firm support to Kashmiris," Dr Fasial added, after the OIC released a statement following the assassination of Kashmiri leader Hafizullah Mir Kashmir by the Indian occupying forces.
On the prime minister's recent two-day visit to Malaysia, Dr Faisal informed that bilateral talks were held to enhance cooperation between Pakistan and Malaysia.
"Discussion over how to combat terrorism together by both the countries was also discussed," he added.
The spokesperson said that no information had been received from Afghanistan regarding the murder of Superintendent Police Tahir Khan Dawar.
He further said that investigation into the murder of SP Dawar was under way in Pakistan.