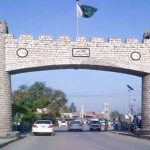 ISLAMABAD: President Mamnoon Hussain will have sidelines meetings with the leadership of Shanghai Cooperation Organization (SCO) member countries including his Chinese counterpart President Xi Jinping, said foreign office.
During his weekly news briefing in Islamabad on Thursday, Foreign Office Spokesperson Dr Muhammad Faisal said that President will discuss all matters of bilateral relations and ways of enhancing mutual cooperation between the member countries.
The spokesperson said India is now using new inhuman methods of crushing Kashmiri youth under heavy vehicles.
"It is highly condemnable that Central Reserve Police Force (CRPF) ran a jeep over Kaiser Ahmad, 24 years old, during protests after Friday prayers, who succumbed to injuries in Nowhatta area of Srinagar", he added.
He said the world community and human rights defenders should take notice of the situation in the occupied valley.
Dr Faisal said that the Indian occupation forces have snapped the internet services in Srinagar and clamped curbs on the public movement.
"Indian atrocities in Indian occupied Jammu and Kashmir are out rightly condemned and need immediate attention of the international community and global human rights defenders", he added.
Replying to a question he said that minorities residing India are being persecuted which is totally contrary to India's self portrayal of a secular state.
He said the relationship between Pakistan and Russia are growing positively and it is hoped they will be stronger in future.
Regarding a recent report on Pakistan's minorities, he said we do not acknowledge reports from any country or international organization with unidentified sources.
"Constitution of Pakistan protects minorities and dubs them as honorable citizens of Pakistan", he added.
He said that Pakistan strongly condemned the suicide attack that targeted a congregation of religious scholars in Kabul.
Spokesperson said Pakistan is one of the most affected countries and is facing serious water problems.
Pakistan, among the global community, seeks to find sustainable alternatives to plastic and urgently reduce its excessive production that is continuously polluting our rivers and seas, he added.