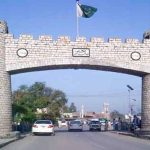 MUZAFFABAD: Indian troops fired shots at a helicopter carrying Azad Jammu and Kashmir (AJK) Prime Minister Raja Farooq Haider near the restive Line of Control (LoC) on Sunday. Fortunately, no loss of life or property was reported.
The AJK prime minister was travelling near Taraori village when bullets were fired at his chopper from an Indian post across the LoC. He, however, remained safe.
The AJK prime minister Haider had gone to the village to condole with former AJK prime minister Chaudhry Abdul Majid whose brother recently died.
The firing occurred in Taraori village, which is near the Line of Control.
The firing incident comes at a day after Foreign Minister Shah Mahmood Qureshi warned India of a strong response if New Delhi tries to cross the LoC or acts upon its so-called doctrine of limited war against Islamabad.
Addressing the 73rd Session of the United Nations General Assembly in New York, the foreign minister said that Pakistan will continue to support the comprehensive reforms in the Security Council and wants to see it more democratic and transparent.
The foreign minister maintained that Pakistan has been an active member of the United Nations since its inception and is at the top of the list of countries, which participate in the peace keeping mission of the United Nations.
The minister said that Pakistan wants to have friendly relations with the neighboring countries, adding that Pakistan wants to resolve all outstanding issues with India through dialogue but the Indian government has wasted an opportunity for the third time.
"We (foreign minister of India and Pakistan) were to meet on the sidelines of this UNGA Session to talk about all issues with India- India called off dialogue the third time for the Modi Government – each time on flimsy grounds. They preferred politics over peace," said Qureshi.
He said that unresolved Kashmir dispute poses great threat to peace and stability in the region and peace can never be established in South Asia unless the issue of Kashmir is resolved in accordance with the UN resolutions.