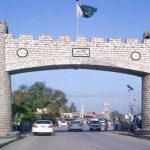 ISLAMABAD: Leader of the Opposition in National Assembly Syed Khurshid Shah on Thursday said Pakistan does not want war but it looks Indian leadership wants war to destroy the peace of the region.
Addressing on a point of order in National Assembly, Khurshid Shah said India is continuing ceasefire violations and killing of our soldiers and innocent civilians along Line of Control to divert attention from its atrocities and barbarism in Occupied Kashmir.
He termed the Indian unprovoked firing and shelling on LoC and working boundary as an aggression. He stressed the need for giving befitting response to the Indian aggression on the border and accelerating the efforts to highlight Indian atrocities in Occupied Kashmir and ceasefire violations by the Indian forces.
Responding to points raised by Leader of the Opposition Syed Khurshid Shah, Minister for States and Frontier Regions Abdul Qadir Baloch assured the House that India will inconceivably harm itself if it ever tried to commit aggression against Pakistan. He said tit for tat reply will be given to any action by the Indian forces.
The Minister said Pakistan armed forces are not weak in any manner as compared to India. He said our armed forces deployed along Line of Control are not sitting silent and giving befitting response to Indian unprovoked firing along LoC and Working Boundary and India is suffering more losses than us. However, he said Indian forces are killing innocent civilians in violations of all international norms. He said it our compulsion that we cannot target civilians on other side of the LoC which also include Muslims.
Abdul Qadir Baloch said the government is making all out efforts to highlight Indian atrocities in Occupied Kashmir and unprovoked firing by the Indian forces along LoC. He said these efforts will be further accelerated.
Chairman of Foreign Relations Committee Awais Ahmad Khan Leghari said the issue of ceasefire violations and killing of civilians by the Indian forces should be raised in the Human Rights Council of the UN Security Council.