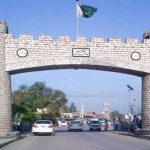 ISLAMABAD: Prime Minister Imran Khan congratulated Indian Prime Minister Narendra Modi over winning elections for the second term.
I congratulate Prime Minister Modi on the electoral victory of BJP and allies, PM wrote on twitter.
The premier said he is looking forward to work with him for peace, progress and prosperity in South Asia.
Imran Khan has said earlier he believes there may be a better chance of peace talks with India and settle the Kashmir issue if Prime Minister Narendra Modi s party BJP wins the general elections.
Meanwhile, the Indian Prime Minister Narendra Modi thanked PM Imran for his message of congratulation on election win.
PM Modi replied on PM Imran Khan's tweet" I warmly express my gratitude for your good wishes." He said "I have always given primacy to peace and development in our region."
Indian Prime Minister Narendra Modi swept to a huge election victory on Thursday, on course to increase his majority and give his party the mandate to pursue business-friendly policies that put Hindus first and take a hard line on national security.
Official data from India's Election Commission showed Modi's Hindu-nationalist Bharatiya Janata Party (BJP) ahead in 298 of the 542 seats available, up from the 282 it won in 2014 and more than the 272 seats needed for a majority in the lower house of parliament.
That would give it the first back-to-back majority for a single party since 1984.