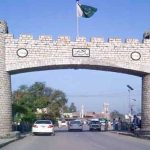 ISLAMABAD: Indian troops in their continued acts of state terrorism in Indian occupied Kashmir martyred three youth during a cordon and search operation in Kundalan area of Shopian district.
According to Kashmir Media Service, an 11th class student Ubaid Manzoor Lone who was injured in the firing of the Indian troops on protesters on Baramulla-Handwara highway on 25th of June succumbed at a Srinagar hospital, today.
Thousands of people including women and children participated in his funeral prayers at his native villge Nadihal in Sopore. Pro-freedom, pro-Pakistan and anti-India slogans were raised on the occasion. His killing was marked by complete shutdown in Nadihal and adjoining areas.
The killings triggered massive anti-India protests at several places. The troops fired bullets, pellets and teargas on the protesters, injuring around two dozen people in Kundalan area of Shopian.
The Joint Resistance Leadership comprising Syed Ali Gilani, Mirwaiz Umar Farooq and Muhammad Yasin Malik in a statement called for complete shutdown against the civilian killings in Shopian district.
Two Indian soldiers including a Junior Commissioned Officer were injured in an attack on a team of Indian Army involved in a cordon and search operation in Kundalan area of Shopian district.
Hurriyat leaders including Shabbir Ahmad Dar, Nisar Hussain Rather, Muhammad Ahsan Untoo and other Hurriyat leaders visited the families of three civilian youth martyred by the Indian troops in Redwani area of Kulgam district on Saturday.
Association of Parents of Disappeared Persons, Muhammad Ahsan Untoo Kashmir Economic Alliance staged separate protests in Srinagar to draw the attention of the international community towards human rights violation perpetrated by the Indian forces in the occupied territory.