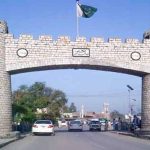 SRINAGAR: Indian troops, in their fresh act of state terrorism, martyred eight youth in Kulgam district in occupied Kashmir today (Sunday).
The youth were killed during a siege and search operation in Largo Ramahama village in Kulgam Tehsil. The military operation was going on till last reports came in.
Kashmiris have staged a protesting against Indian violation of human rights and Indian forces are using arms against protester.
Hurriyat leader Yasin Malik applauded Kashmiri martyrs and expressed determination to fight for the right till the end.
Earlier, complete shutdown was observed in the valley to mourn the killing of PhD scholar Dr Manan Wani and his associate Aashiq Hussain Zargar by Indian army soldiers.
Call for the shutdown was given by the Joint Resistance Leadership comprising Syed Ali Gilani, Mirwaiz Umar Farooq and Muhammad Yasin Malik to pay homage to Dr Wani and his associate.
Pakistan had also reiterated its call for a thorough and independent investigation into use of chemical weapons by Indian forces in occupied Kashmir.
Dr Muhammad Faisal said that the Indian forces are committing heinous crimes in occupied Kashmir and the same was documented by the UN Human Rights Commission in its recent report.