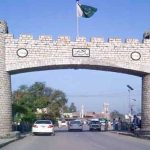 SRINAGAR: Indian troops in their fresh act of state terrorism have martyred three more youth in Tral area of occupied Kashmir on Monday.
The youth were killed during a cordon and search operation at Pinglish district of the IoK.
The internet and mobile services have been suspended in the held valley soon after the martyrdom of the youth by the puppet administration, said KMS.
Yesterday, several prominent newspapers had published blank front pages in occupied Kashmir to protest against the unexplained denial by the Indian authorities of advertisements to valley-based two leading newspapers, Greater Kashmir and Kashmir Reader.
Earlier on March 5, the Indian troops took two more lives of two innocent Kashmiris in Pulwama district.
In their fresh wave of state terrorism, Indian troops martyred two youth in occupied Kashmir during a cordon and search operation in Pulwama.
The troops also blasted a house with explosive material and razed it to the ground.
Chairman Hurriyat Forum Mirwaiz Umar Farooq had urged Pakistan and India to begin decisive talks on the issue of Kashmir.
"Leaderships of Pakistan and India immediately need to take measures to end escalation and resolve issues," Mirwaiz Umar Farooq said in a tweet.
He also expressed concern over mass displacement and financial and life loss as a result of heavy firing across the Line of Control.