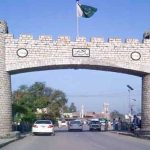 SRINAGAR: Indian troops martyred three more Kashmiri youth in Baramulla and Shopian districts of Occupied Kashmir on Saturday in the latest acts of Indian state terrorism.
The latest deaths came as a state of fear and panic gripped the Himalayan terrority after the Hindu nationalist Baharatiya Janata Party (BJP) government called in tens of thousands of additional troops and ordered tourists to evacuate the region.
According to the Kashmir Media Service, two youth were martyred in a cordon and search operation at Malmapanpora in Sopore area of Baramulla district, where an Indian soldier was injured in an earlier attack.
Another youth, identified as Manzoor Ahmed Butt, was martyred during an over 40-hour long cordon and search operation at Pandoshan in Shopian district, where Indian troops had martyred another youth, Zeenat-ul-Islam Naikoo, the previous day. The Indian forces also razed several houses to the ground by during the operation in Pandoshan.
Thousands of people participated in the funeral prayers of martyred Zeenat-ul-Islam Naikoo at his native Memmander village in Shopian district on Saturday, where they raised anti-India and pro-freedom slogans.