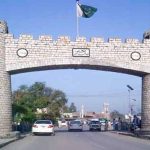 WASHINGTON: Pakistan s ambassador to the United States Asad Majeed Khan said on Sunday that India's moves in occupied Kashmir have been endangering peace and security of the entire region amid escalating tensions with arch-rival Pakistan over alarming humanitarian crisis, atrocities and clampdown in the disputed Himalayan region of Kashmir.
Khan, while talking to the media, stated: "The world must take notice as nine million Kashmiris have been besieged […] President Donald Trump have offered to mediate thrice [for resolution of the crisis] while expressing concerns over the prevailing situation."
He further maintained that everyone, including the chairman of the US House Intelligence Committee, have expressed strong concerns over India's acts, in particular regarding humanitarian crisis in the region.
"The world is observing the attitude of India towards in Kashmir," he added.