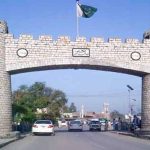 ISLAMABAD: Inquiry committee on Monday completed probe into scuffle that broke out between Pakistan Tehreek-e-Insaaf's Murad Saeed and Pakistan Muslim League Nawaz's (PML-N) Javed Latif outside parliamentary lobby.
Inquiry committee has proposed two-day and eight-day ban for Murad Saeed and Javed Latif respectively. Recommendations in this regard have been presented before national assembly (NA) speaker Ayaz Sadiq.
Speaker National Assembly Ayaz Sadiq is expected to announce decision today.
Session of the six-member inquiry committee was held today in which Ijazul Haq, Tariqullah, Ghos Baksh Mehar and other members participated. Security staff submitted regard pertaining to Murad-Javed brawl.The committee recommended suspension of the both members of the National Assembly for few days.
Moreover, PTI moved a resolution in Punjab assembly condemning Javed Latif's lewd remarks. Resolution calls for legal and constitutional action against Javed Latif under article 62 and 63.
A legal notice has also been served to Javed Latif asking him to seek forgiveness within fifteen days.
It may be recalled that Murad Saeed had punched Javed Latif in his face after latter passed indecent remarks against earlier family and Imran Khan.