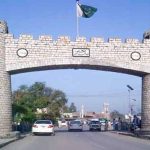 The National Command and Operations Centre, the body that is leading Pakistan's fight against coronavirus, on Sunday announced a ban on travelling by road between provinces over the weekends.
"It has been decided to ban interprovincial transport for two days a week (Saturday and Sunday) with effect from April 10, at 12 am, to April 25, 12:59am," said NCOC in a statement.
It notified certain exemptions to the new restrictions, given below:
•Goods, freight, medical and other emergency services will be exempted.
•Railway to continue to operate 7 days a week with 70% occupancy.
Additionally, the ban will be reviewed by NCOC on April 20.
The announcement comes as the country saw more than 5,000 coronavirus cases in the last 24 hours.