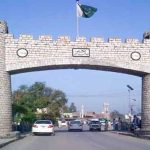 ISLAMABAD: Federal Minister for Interior Aijaz Shah has called on Speaker National Assembly (NA) Asad Qaiser to brief him about progress made in the interrogation of the farishta rape and murder case.
Federal Minister for Interior Aijaz Shah informed the Speaker NA that judicial inquiry in the farishta murder and rape case has been initiated.
Talking at the occasion, Speaker NA Asad Qaiser said that the culprits involved in the heinous activity that they should be given exemplary punishment adding that justice must be provided and he will not tolerate any hurdle in the path of justice.
Asad Qaiser said that he is in touch with the farishta family until the completion of the inquiry.
The NA speaker had called on the bereaved family of farishta and ensured them to provide complete justice in the case.