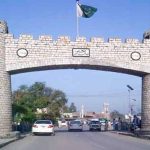 ISLAMABAD: Federal Minister for Interior and Narcotics Control Chaudhry Nisar Ali Khan on Thursday briefed the Committee on Newsleak.
In a statement issued by the Ministry of Interior, the minister apprised the committee members about the progress made so far over the issue.
The briefing was given on the request of Committee on newsleak which lasted for about one hour.
Earlier this week, the government constituted the inquiry committee to probe the Newsgate scandal.
According to an Interior Ministry press release issued here Monday, head of the committee will be Justice (R) Aamer Raza A Khan while members will include Provincial Ombudsman Punjab Najam Saeed, Secretary Establishment Syed Tahir Shahbaz, Director FIA Punjab Dr Usman Anwar and one representative each from Inter Services Intelligence, Military Intelligence and Intelligence Bureau.
Last month, Prime Minister Nawaz Sharif removed Information and Broadcasting Minister Pervaiz Rashid from his cabinet over October 6 security meeting's leak to media.
The article, published in the English daily, Dawn, caused uproar and the journalist who wrote it was briefly hit with a travel ban.
"The planted story related to NSC and NAP meetings published in Dawn on October 6 was a breach of national security. Evidence available so far points to a lapse on part of Information Minister, who has been directed to step down from office to enable holding of an independent and detailed inquiry," a statement by PM office said.
Later, Interior Minister Chaudhry Nisar Ali Khan had said that there is a consensus between the civilian and military leadership that whoever leaked the 'false story' should be exposed.
Briefing the media about Pervaiz Rashid's suspension as information minister, Nisar said that on the basis of initial probe he can say that there is no record as to who leaked the story.
Nisar said Pervez Rashid did not make any attempt to stop news story from being published.
"Pervez Rashid should have told the journalist concerned that the news is incorrect and this should not be published in the national interest… and upon resistance he could have asked, Zafar Abbas (the editor of the newspaper), not to run the story," he said.