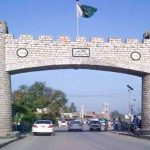 ISLAMABAD: Interior Minister Ahsan Iqbal says some neighboring countries are feeling apprehensive about China-Pakistan Economic Corridor (CPEC).
In an interview with China Global Television Network, he said the mega project is not against anyone. Rather, he said it is for everyone.
The Interior Minister said no one can obstruct construction of CPEC and the government will make sure the project's success.
He said Pakistan has raised a special force of about 15,000 personnel who are assigned exclusively for the security of Chinese personnel at the CPEC project.
Ahsan Iqbal said China and Pakistan have agreed to strengthen anti-terrorism and security cooperation along CPEC in this month.
Talking to Chinese daily Global Times, the Interior Minister dismissed apprehensions that CPEC will jeopardize South Asian stability.
He said regional connectivity and cooperation under CPEC will benefit the neighboring countries.
Ahsan Iqbal said CPEC has entered the phase where its fruits and dividends are beginning to be visible.