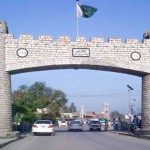 ISLAMABAD: The Ministry of Interior on Thursday while blacklisting former finance minister and Pakistan Muslim League-Nawaz (PML-N) leader Ishaq Dar blocked his passport.
Ishaq Dar's name was included in the blacklist on the request of the anti-graft watchdog, while his passport was also blocked.
The former finance minister was declared fugitive in case pertaining to assets beyond income means and efforts were underway to bring him back to Pakistan through Interpol.
In November last year, the accountability court had declared ex-finance ninister Ishaq Dar absconder and rejected the minister's petition in which he sought immunity from hearing of assets beyond known sources of income reference.
The court had further directed to release advertisement for Dar's summoning. The court had also issued a show-cause notice to Ishaq Dar's guarantor Ahmed Ali Quddusi and ordered him to submit reply by November 24.
The minister had made the request to get immunity from hearing on medical grounds as he is in London for heart treatment, and a fresh health report was also submitted in the court by his counsel. The National Accountability Bureau (NAB) special prosecutor had opposed the report and requested the court to declare Ishaq Dar absconder.