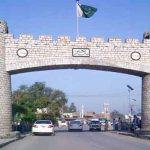 ISLAMABAD: The Federal Interior Ministry has lifted ban on issuing NPB Arms licenses.
In compliance with a notification issued by the interior ministry, the office of direct magistrate, issued a notice lifting the ban on issuing arms licenses.
"In pursuance of the notification issued by Ministry of Interior dated 26.12.2017, ban non-issuance of NPB Arms License has been lifted. NBP licenses will be issued after completion of all legal/codal formalities in the light of directions issued through a policy of interior ministry" the notification by the magistrate read.
The magistrate's office also issued a Standard Operating Procedure (SOP).
Henceforth, the general public can apply for ownership of arms including a shotgun, non automatic or semi-automatic including pump action, revolver or pistol and rifle other than the prohibited bore. A monthly quota of 100 licenses has been allotted for the public.
"The categorisation is not exhaustive and notification in this regard issued from time to time may be referred for a complete list," the notice read, implying that more arms will be added to the NPB list.
Each applicant must submit legal documents in order to be considered. Official police verification to also be provided by the applicants, and NADRA will issue the approved arms license.
On December 6, 2017, the federal cabinet approved the lifting of a ban on the issuance of licenses for non-prohibited bore weapons.