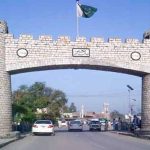 ISLAMABAD: The Federal Interior Minister has warned the home ministry of Gilgit-Baltistan (GB) that India could orchestrate attacks on the projects of China-Pakistan Economic Corridor (CPEC).
The Federal Minister in his letter has instructed the GB home ministry to beef up security warning that India could engineer attacks on Karakoram Highway and other projects of CPEC.
The letter read that India had sent 400 Muslim youth to Afghanistan for training to mount the attacks on the projects.
After the GB interior ministry received the letter, security was tightened for the CPEC projects.
Meanwhile, Home Secretary GB Javed Akram, Inspector General Police (IGP) Sabir Ahmed and other police officers visited the projects' sites and inspected security arrangements.