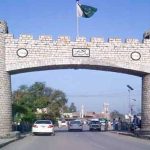 ISLAMABAD: Intermittent rain continues to lash parts of Punjab on Wednesday increasing the chill and cold in the province.
Clouds have formed a blanket over the sky and will pour additional rain in the coming day.
Traffic flow was slow and disrupted due to slippery roads.
Light and heavy rainfall occurred at different places including Islamabad, Kasur, Gujranwala, Sialkot, Faisalabad, Kahna, Kundian and Shujabad.
Light drizzle in Karachi also intensified cold in the metropolis.
Meanwhile, snow continues to fall after frequent intervals in Quetta stranding people in their homes.
Mountains were covered in white blanket after snowfall in various areas of Azad Kashmir including Rawalkot, Neelum, Haveli and Leepa.
The snowfall has also forced tourists to prolong their stay in Murree hotels while others are still arriving at Malika-i-Kohsar to enjoy the weather and striking scenery.
Lowari Top has been closed for all sorts of traffic due to heavy snowfall.
According to district administration, Chitral, Lowari Top has received more than five feet snow during the last two days.
Met office has said that the spell of rain and snowfall will continue till the next day.