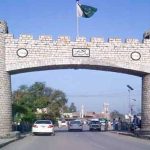 LYON, France: The Interpol has placed name of Mujahid Afridi – the key suspect in Asma Rani murder case – in its list of most wanted people and posted his photo on its website.
Mujahid Afridi – who is accused of playing the central role in the murder of Asma Rani – escaped to Saudi Arabia after committing the crime.
Following his escape, the government of Khyber Pakhtunkhwa requested the Federal Investigation Agency (FIA) to arrest Mujahid Afridi with the help of Interpol.
Subsequently, FIA requested the Interpol to arrest the accused.
The Interpol accepted the FIA's request and placed Mujahid Afridi's name on its list of wanted people.
It is worth mentioning that Mujahid Afridi had killed Amsa Rani, who was a medical student, after she turned down his proposal for marriage.