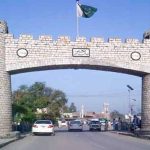 A project to supply an additional 100 MW of electricity from Iran to meet Gwadar's current and future electrical needs has been completed.
According to a handout issued by the Balochistan CM Secretariat on Sunday, Gwadar's current electricity demand is 130 megawatts, which cannot be fulfilled with existing resources in the country.
For fulfilling the electricity requirement, an agreement was made with Iran for the supply of 100 megawatts of additional electricity to Pakistan. And to carry out the project, a 138-kilometre transmission line was built from the Iranian border to Gwadar.
According to the handout, FWO ensured the installation of 58 kilometres of transmission line from the Iranian border to the Jiwani grid station and 80 kilometres from the Jiwani to the Gwadar grid station in record time.
This significant project will ensure that Gwadar's home and industrial consumers have uninterrupted power supplies.