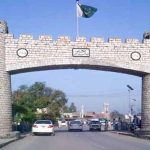 TEHRAN: Iran said on Saturday that it had successfully tested a new medium-range missile in defiance of warnings from Washington that such activities were grounds for abandoning their landmark nuclear deal.
State television carried footage of the launch of the Khoramshahr missile, which was first displayed at a high-profile military parade in Tehran on Friday.
It also carried in-flight video from the nose cone of the missile, which has a range of 2,000 kilometres (1,250 miles) and can carry multiple warheads.
"As long as some speak in the language of threats, the strengthening of the country's defence capabilities will continue and Iran will not seek permission from any country for producing various kinds of missile," Defence Minister Amir Hatami said in a statement.