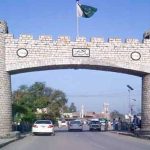 ISAMABAD: Foreign Affairs Minister of Iran, Mohammad Javad Zarif will arrive in Islamabad on a four-day visit on March 11 (tomorrow).
According top details, Mohammad Javad Zarif will meet his Pakistani counterpart Khawaja Muhammad Asif and other high officials during the visit.
Issues of mutual interest, regional security, border management and Pak-Iran gas pipeline project will came under discussion in the meetings.