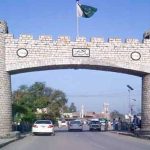 ISLAMABAD: Iranian Foreign Minister Mohammad Javad Zarif arrived in Islamabad last night on a three-day visit to hold talks with Pakistani leadership.
He was warmly welcomed by senior officials of Foreign Ministry at Islamabad Airport.
He is leading a thirty-member delegation, which will hold talks on mutual of bilateral interests. During the meetings, the Iranian delegation will discuss matters pertaining to trade, energy, culture, people to people contacts besides discussing other matters of mutual interest.
During the visit, Javad Zarif will hold meetings with President Mamnoon Hussain and Prime Minister Shahid Khaqan Abbasi.
He will also hold meetings with the Pakistani leadership and address a think tank on mutual relations of Pakistan and Iran.