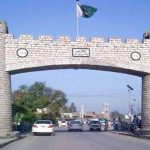 KARACHI: Pakistan Muslim League-N (PML-N) leader Irfanullah Marwat has denied joining the Pakistan Peoples Party (PPP).
His clarification came a day after Aseefa and Bakhtawar, the daughters of former president and co-chairman of PPP Asif Ali Zardari, reacted strongly against the party's decision to welcome Marwat in the PPP, calling the latter a "sick man."
Marwat had announced to switch his loyalties from PML-N to PPPP following a meeting with Asif Zardari; however, while talking to Samaa, he claimed that he had not joined PPP but had just announced to support and work with PPP leadership.
Both the sisters took to Twitter to express their displeasure over the development in a hard tone.
"Sick man should be rotting in a jail cell somewhere not coming anywhere near #PPP. Party that was led by a woman will not tolerate such ppl," said Bakhtawar B-Zardari on Twitter.
"Mr Irfanullah Marwat should not be in #PPP 1 of the core PPP values is respect for women! His repulsive&illegal actions are reprehensible," said Aseefa Bhutto.