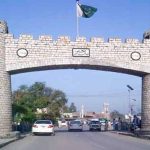 ISLAMABAD: Finance Minister Ishaq Dar on Monday took notice of the Chief of Army Staff (COAS) General Qamar Javed Bajwa's family's members illegal tax information leaks and ordered an investigation.
"This is clearly violative of the complete confidentiality of tax information that the law provides," said Ishaq Dar in a statement issued by the finance ministry.
Dar directed Prime Minister's Special Assistant on Revenue, Tariq Mehmood, to personally lead the investigation into the violation of tax law and breach of FBR data, affix responsibility, and submit a report in a day.
The government launched a probe a day after an exclusive report of FactFocus which revealed that assets of the outgoing chief increased manifold in recent times.
The FactFocus report revealed the incumbent COAS's family business ventures and alleged that the total worth of the "known" assets and businesses within and outside Pakistan of Bajwa family amounted to Rs12.7 billion