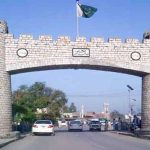 ISLAMABAD: Finance Minister Ishaq Dar has resigned from the ministry and a three member committee has been constituted to look after economic affairs of the country.
The resignation has been sent to Prime Minister Shahid Khaqan Abbasi. A decision on accepting the resignation will be made after the prime minister consults with PML-N party head Nawaz Sharif.
In the case of the resignation being accepted, Prime Minister Abbasi will take over the portfolio of the finance ministry.
Ishaq Dar made the decision to resign after the National Accountability Bureau (NAB) requested for his name to be placed on the Exit Control List (ECL).
NAB filed a corruption reference pertaining to Dar's owning assets disproportionate to his known sources of income in light of the Supreme Court's July 28 judgment in the Panama Papers case.
The accountability court hearing the corruption case against Dar — who is in London to receive medical treatment for his heart condition — issued non-bailable warrants after the minister failed to appear in court for the fourth time on November 14.
The court also issued a notice to Dar's guarantor for failing to ensure the presence of the minister and adjourned the hearing until November 21.
The anti-graft body has also announced that it would reinvestigate Dar in the Hudaibiya Paper Mills case.