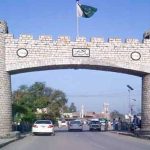 Maulana Yusuf Shah Haqqani is a well-known Islamic scholar and political leader. He belongs to the Jamiat Ulema-e-Islam Sami-ul-Haq group. He is also spokesperson for the famous religious seminary "Darul Ulum Haqqania" Khyber Pakhtunkhwa, Pakistan.
This madrassa is famous as dozen of Taliban leaders and incumbent government ministers studied here.
Recently Islamic Emirates of Afghanistan (IEA) came under harsh criticism not only at home but also globally after it announced closure of girls schools above 6th grade till indefinite date, without giving any reasons.
Meanwhile lower cadres of the Taliban movement welcomed the decision on social media platforms.
Why did the Taliban government kept the girls schools closed? Was there any Shari'a issue and government was under pressure from lower cadres of it's fighters or then there were some other reasons, Khyber News interviewed Maulana Yousuf Shah and tried to get his viewpoint on this important issue.
According to Maulana Yusuf Shah, the people of Afghanistan seen worst oppression in the history starting from USSR to the US led NATO war and now the Islamic Emirate of Afghanistan has been pushed to the wall by international community. Afghanistan and Afghans are living in total isolation.
The fact is that the Islamic Emirate has declared from day one that girls have the right to education and employment. The ideology of the Islamic Emirate is against the ban on women's education. The reason for the delay in opening schools for girls of class VI and above is due to the security conditions and economic difficulties out there. This does not necessarily mean that the Islamic Emirate has banned the education of girls.
As per Molana, the Afghan interim government has already made it clear that co-education will not be allowed in accordance with Afghan social norms. It has also been said that separate classes will be set up for girls in separate schools, colleges and universities and female teachers will be imparting education to the girls. He said every country has the right to make policy according to its traditions and culture. Molana said when Educational institutions were closed for the whole year due to the Corona epidemic in Pakistan and all over the world, no one protested that education has been banned, because all and sundry knew the decision was taken due to certain ground realities.
According to Maulana Yusuf Shah, there is no restriction on the education of girls in Islam. If anyone says there is ban on girls education, he is misguided . He said half of the religion like Hadith transferred to us though the Umahat ul momineen, the mothers of the believers. Yousaf Shah said this year 2.5 million girls in Pakistan have appeared in the Wafaq ul Madaris exam, millions other girls appeared in the exam of government schools. Molana said Afghan Education Minister Maulana Abdul Baqi Haqqani on the occasion of his last visit to pakistan told him that they put curtains in classrooms, separated boys and girls so that education session could continue, but Afghanistan ground situation is different, due to economic issues many government department were closed as there were no money to be paid to the staff. Millions of employees of the previous government have been inherited by the Taliban government, from where their salaries would be paid when the international community does not recognize Afghan government and has imposed sanctions. He said immediate solution to this problem is that the international community should recognize the Islamic Emirate of Afghanistan and restore humanitarian aid immediately. He said in islam women were allowed to work in every government institution , adding that educated women could play a more important role in society than illiterate women.