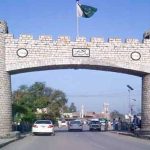 ISLAMABAD: Sit-in protest by Tehreek-e-Labaik continued on 21st day in Faizabad on Sunday with protesters renewed violence as they resorted to arson and pelted stones at police.
The protesters began pelting stones at policemen and set fire to five motorcycles and a car belonging to the police near I-8 sector earlier today, police said.
Situation remains tense in the capital as protesters continue to stage sit-ins at Faizabad bridge and other areas. Express Highway, IJP Road, and the motorway leading to Lahore remain closed to traffic.
On Saturday, violent clashes between protesters and law enforcement personnel left seven dead and 417 injured.
Countrywide protests erupted when police and paramilitary forces fired tear gas and rubber bullets to disperse Tehreek-e-Labaik protesters from Faizabad.
Police and paramilitary forces pulled back after their clearance operation turned deadly. The security forces were met by stubborn resistance by protesters who blocked roads and torched vehicles around the site of the sit-in.
An interior ministry order said the federal government had authorized the deployment of "sufficient troops" to "control law and order" in the capital until further notice.
By daylight on Sunday there was no official military response and no sign of armored vehicles or soldiers on the streets.
Private television broadcasts remained blocked and social media sites were restricted.
The protesters are demanding that Pakistan's law minister Zahid Hamid resign over a hastily-abandoned amendment to the oath that election candidates must swear. Demonstrators have linked it to blasphemy — a highly contentious issue in Pakistan.