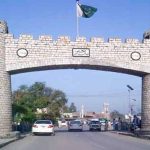 ISLAMABAD: The Islamabad High Court (IHC) on Tuesday ordered protection for the converted two underage sisters from Ghotki.
Raveena and Reena from Daharki in Ghotki district of Sindh had approached the IHC a day earlier seeking protection and steps to restrain the government, police and their family from forcing them to return "and their forceful reversion to Hindu religion".
The girls along with their lawyer appeared in court as IHC Chief Justice Athar Minallah heard their petition. Directing that the two teenage girls be protected, the court ordered that they be handed over to Islamabad deputy commissioner and director general human rights.
"Till the matter is in court, the girls cannot be taken to Sindh," the court remarked.
Justice Minallah further directed that the report of the inquiry ordered by Prime Minister Imran Khan be submitted by next week.
In their petition, the two girls had said that they converted to Islam of their own free will and "false propaganda" is being done in the media regarding their alleged forced conversion. Owing to the alleged propaganda, the lives of the girls and the men they are married to are under threat, the petition added.
The sisters were inspired by Islamic teachings for some time but never disclosed in public due to safety concerns, the petition further stated.
According to the petition which nominated Interior Ministry, Sindh Chief Minister, IG Sindh and Punjab, MNA Ramesh Kumar and Hari Lal, the girls and their purported husbands first moved to Rahim Yar Khan and upon finding out about a police operation being launched against them, they later moved to Islamabad.
The government had taken notice of the incident after two videos went viral on social media. In one of the videos, the girls' father and brother revealed the details and claimed that they were abducted from their residence, and forcefully converted from Hinduism to Islam before they were subjected to underage marriages.
However, a separate video of the girls went viral, in which they said that they accepted Islam of their own free will.
The sisters converted to Islam on March 23, 2019.