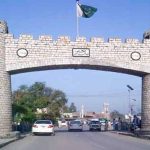 ISLAMABAD: Police on Monday apprehended two Indian High Commission officials in a hit-and-run case in Islamabad.
According to details, a speedy Indian high commission vehicle hit passers-by at an Islamabad road, severely injuring at least three pedestrians.
"It was a black BMW of the Indian High Commission having a registration number QL-105," they said.
The high commission officials tried to flee from the scene but were later intercepted and shifted to Secretariat police station in the federal capital for further investigations.
According to sources, at least three people have been injured in the incident and are said to be in critical condition. "They have been shifted to a hospital for treatment," they said.
Meanwhile, two top Indian diplomats have reached the police station, where the accused officials are being held.
First secretary political and naval attache of the high commission reached out to the police authorities for rescuing the officials, who overran their speedy vehicle on the pedestrians.
Police have also approached director general protocol of the foreign office to verify if the arrested officials have diplomatic immunity or not.
The high commission officials will only be handed over after confirming that they enjoy diplomatic immunity, said the police as they have registered a case against the accused.